Sebelumnya saya sampaikan banyak terima kasih kepada seluruh tweemans yang sudah berkenan ikut berbagi rasa dan kesan-kesannya tentang novel serial remaja kronik Audy karya Orizuka terbitan Penerbit Haru. Semoga kesan-kesannya bisa tersampaikan baik ke Orizuka maupun Penerbit Haru, ya, sehingga paling tidak bisa jadi pemicu semangat untuk terus menerbitkan karya-karya lokal yang seru. Apalagi buku keempat kronik Audy sudah dijadwalkan rilis tahun depan. Semangaaattt!!!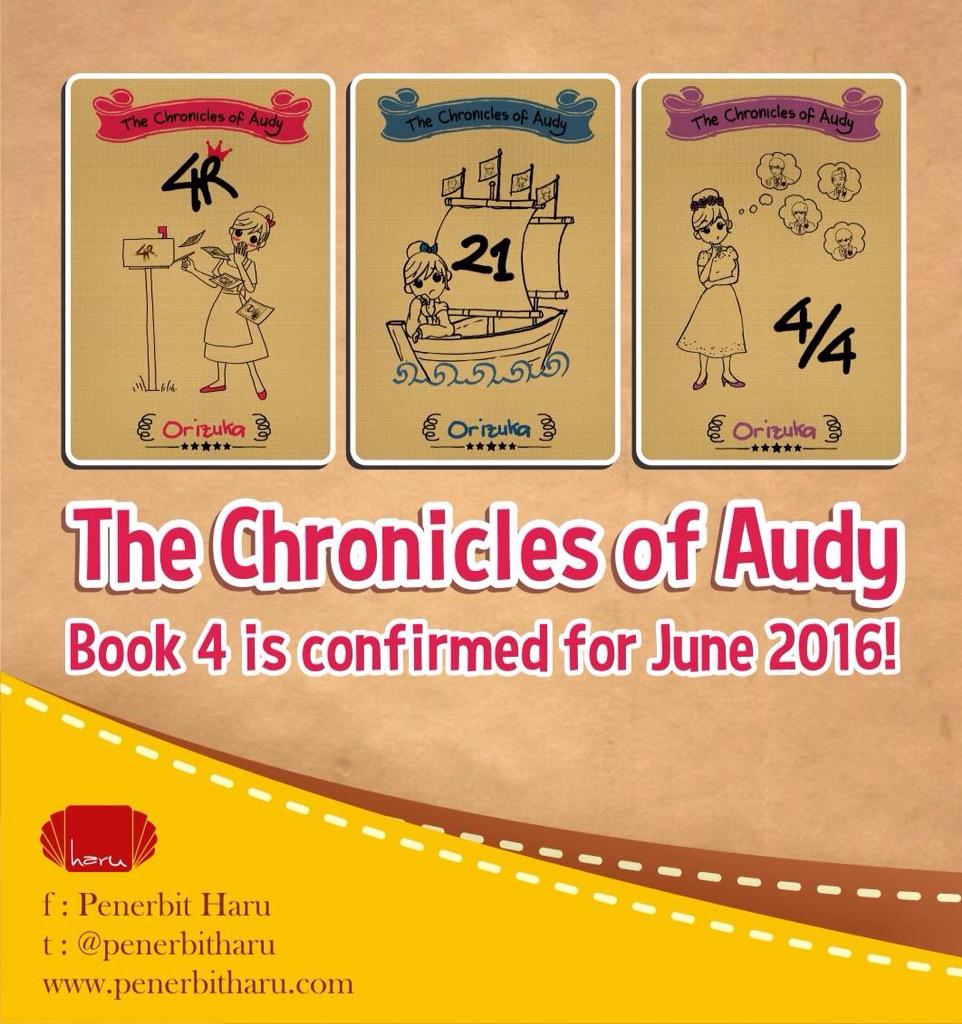 Baik, tanpa berpanjang kata, kita langsung ke pemilihan pemenang
giveaway
satu eksemplar novel Audy episode 4/4-nya, ya. Karena kemarin menggunakan pertanyaan terbuka, tidak ada benar dan salah menyoal pendapat kalian tentang novel serial Audy ini, maka beberapa jawaban paling "beda" saya pilih secara subjektif, lalu saya pilih kembali secara random dengan diundi. Dan, yang terpilih sebagai pemenang
giveaway
kali ini adalah...
Selamat untuk Esa, kamu berhak mendapatkan satu eksemplar novel
The Chronicles of Audy: 4/4
by Orizuka persembahan dari Penerbit Haru. Nanti akan saya hubungi via DM Twitter atau Email, ya. Untuk tweemans yang lain, tetap semangat yaaa.... Jika memang ada kelonggaran dana, yuk dibeli novel seri ketiga dari kronik hidup Audy ini. Atau meminjam di perpustakaan atau taman baca atau teman yang sudah dibeli juga boleh, yang penting baca buku ini, hehehe... *
maksa
Sampai bertemu di kuis atau
giveaway
lainnya, ya...