"Waiting On" Wednesday is a weekly event, hosted by Breaking the Spine, that spotlights upcoming releases that we're eagerly anticipating.
Untuk pertama kalinya saya ikut meme yang satu ini. Berhubung info buku siap rilis di Indonesia tidak seterbuka di luar, agak sulit memang bisa mengikuti meme ini. Para blogger luar bahkan terkadang bisa memuat artikel tentang sebuah judul buku lengkap dengan kovernya yang baru akan terbit enam bulan mendatang. Yap, ENAM bulan lagi. Di Indonesia? Hmm, kayaknya mustahil, ya. Kecuali kita penulisnya atau penerbit atau distributor atau edior in house-nya. Entahlah, apa yang membuat dunia perbukuan Indonesia tidak semenggairahkan seperti di luar, ya?
Hmm, nggak jadi soal, saya ikutan meme ini, yah untuk buku yang akan segera rilis yang benar-benar sangat menarik minat dan bikin enggak sabar baca. Dan, untuk edisi Rabu, 24 Juni 2015 ini yang masuk dalam daftar tunggu---my Waiting on Wednesday, adalah...
Dalam dunia penerbangan, dikenal istilah critical eleven, sebelas menit paling kritis di dalam pesawat—tiga menit setelah take off dan delapan menit sebelum landing—karena secara statistik delapan puluh persen kecelakaan pesawat umumnya terjadi dalam rentang waktu sebelas menit itu. It's when the aircraft is most vulnerable to any danger.

In a way, it's kinda the same with meeting people. Tiga menit pertama kritis sifatnya karena saat itulah kesan pertama terbentuk, lalu ada delapan menit sebelum berpisah—delapan menit ketika senyum, tindak tanduk, dan ekspresi wajah orang tersebut jelas bercerita apakah itu akan jadi awal sesuatu ataukah justru menjadi perpisahan.

Ale dan Anya pertama kali bertemu dalam penerbangan Jakarta-Sydney. Tiga menit pertama Anya terpikat, tujuh jam berikutnya mereka duduk bersebelahan dan saling mengenal lewat percakapan serta tawa, dan delapan menit sebelum berpisah Ale yakin dia menginginkan Anya.

Kini, lima tahun setelah perkenalan itu, Ale dan Anya dihadapkan pada satu tragedi besar yang membuat mereka mempertanyakan pilihan-pilihan yang mereka ambil, termasuk keputusan pada sebelas menit paling penting dalam pertemuan pertama mereka.

Diceritakan bergantian dari sudut pandang Ale dan Anya, setiap babnya merupakan kepingan puzzle yang membuat kita jatuh cinta atau benci kepada karakter-karakternya, atau justru keduanya.
Berdasar informasi yang dikabarkan pengarangnya, Critical Eleven akan siap dipesan awal mulai tanggal 1 Juli 2015, pukul 11.00 WIB, di beberapa toko buku online. Dan, unuk edisi pesan awal ini hanya akan tersedia 1.111 eksemplar dengan bonus tanda tangan dan luggage tag spesial dari Ika Natassa dan Gramedia. Sedangkan, untuk edar secara luas baru akan dilaksanakan pada tanggal 11 Agustus 2015. Jadi, buat para penggemar tulisan Ika Natassa, persiapkan dirimu untuk ikut serta dalam perayaan penyambutan terbitnya novel terbaru Ika Natassa yang merupakan pengembangan dari cerita pendek berjudul sama yang termuat dalam buku antologi metropop, Autumn Once More, yang terbit tahun 2013 silam.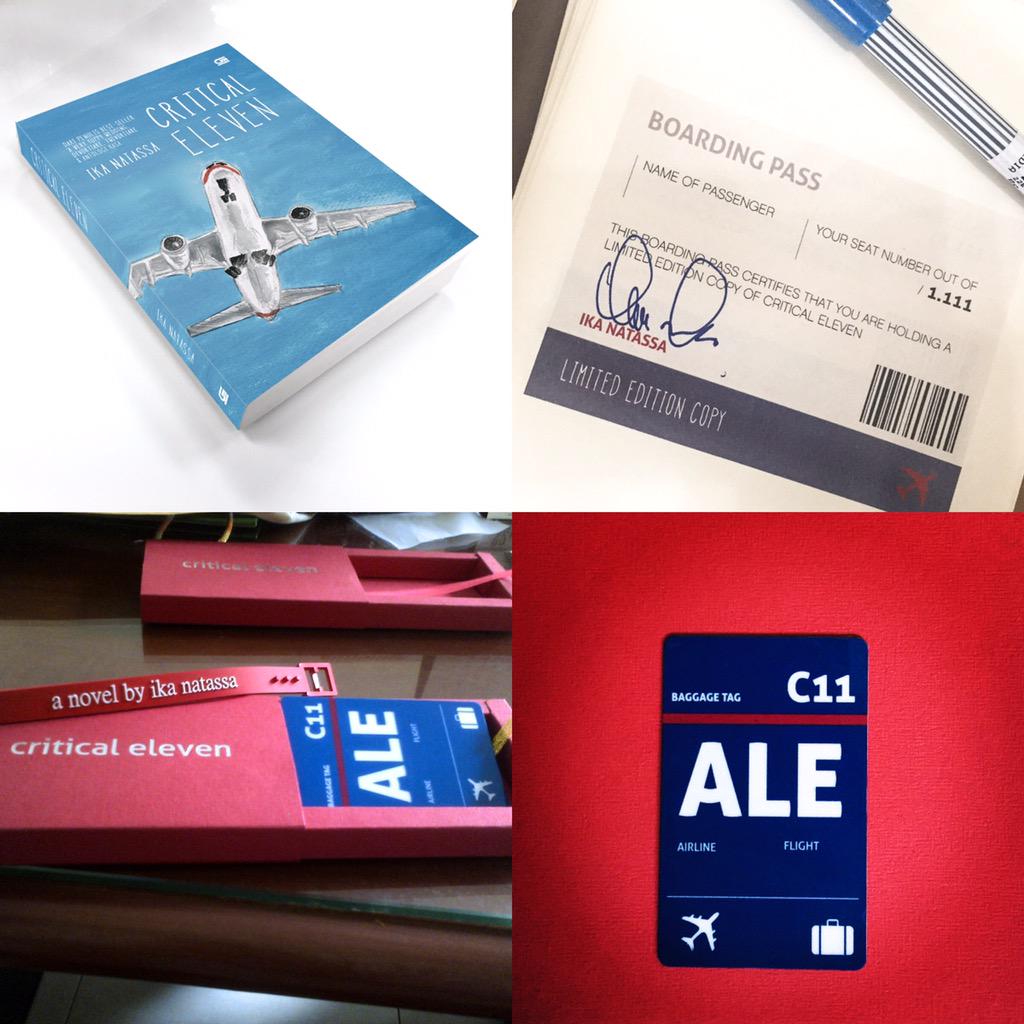 Jadi, apakah kamu juga ikut menunggu kehadiran buku ini? Ataukah ada buku lain yang sedang sangat kamu nantikan kehadirannya? Tell me!