#1_2017
First line:
HE DOESN'T KNOW I'm alive.
--hlm. 9, Chapter 1: Hannah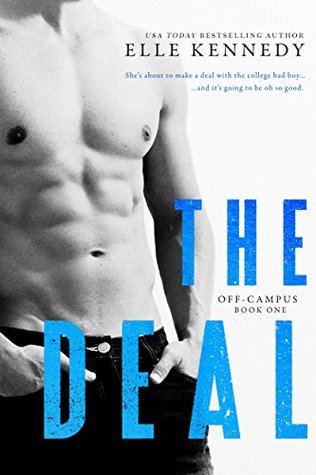 She's about to make a deal with the college bad boy...

Hannah Wells has finally found someone who turns her on. But while she might be confident in every other area of her life, she's carting around a full set of baggage when it comes to sex and seduction. If she wants to get her crush's attention, she'll have to step out of her comfort zone and make him take notice...even if it means tutoring the annoying, childish, cocky captain of the hockey team in exchange for a pretend date.

...and it's going to be oh so good

All Garrett Graham has ever wanted is to play professional hockey after graduation, but his plummeting GPA is threatening everything he's worked so hard for. If helping a sarcastic brunette make another guy jealous will help him secure his position on the team, he's all for it. But when one unexpected kiss leads to the wildest sex of both their lives, it doesn't take long for Garrett to realize that pretend isn't going to cut it. Now he just has to convince Hannah that the man she wants looks a lot like him.
Judul:
The Deal
Seri: Off-Campus, buku 1
Pengarang: Elle Kennedy
Penerbit: Elle Kennedy Inc.
Rilis: 24 Februari 2015
Format: e-book, bahasa Inggris
Genre: New Adult
Tebal: 408 hlm
My rating: 3,5 out of 5 star
ide cerita dan eksekusinya:
Well
, akhirnya saya berhasil juga membaca novel
New Adult
lagi.
Hahaha. Actually, it just tells something about an ordinary romance
. Sedikit campuran
Cinderella
story
dan
Romeo dan Juliet
. Romantisme tercipta antara si gadis jurusan seni yang pintar dengan pemuda sang kapten tim hoki es yang terancam kariernya karena kegagalan akademis di salah satu mata kuliah. Bagian awal
Chapter 1
berhasil menipu saya soal siapa
love interest
si gadis. Namun, dengan penggunaan PoV (
point of view
) orang pertama untuk dua karakter utamanya, saya langsung paham bahwa akan ada cerita soal cinta segi tiga di novel ini.
Selain itu, ada isu tentang kejahatan pemerkosaan dan kekerasan dalam rumah tangga (KDRT) yang membuat cerita
romance
yang sejatinya simpel saja menjadi lumayan kompleks. Elle berhasil mempertahankan premisnya dan membuat cerita bergulir dengan apik serta diakhiri dengan pas. Ada sih bagian ketika dua tokoh utamanya terkesan labil dan kepingin banget saya
jorokin
ke jurang,
but overall
, Elle berhasil membuat
ending
yang manis.
plot, setting, dan karakter:
The Deal
dibuat dengan alur maju dan jarang ada kilas balik ke masa lalu, hanya dari percakapan kedua tokoh utamanya saja.
Setting
lokasi terutama di area kampus Briar University di Massachusetts, USA. Sesuai dengan judulnya, salah satu tokoh utamanya tinggal di sebuah rumah asrama (atau sewaan) yang terpisah dari kampus (
off-campus
).
Dua tokoh utamanya adalah Hannah Wells, si gadis jurusan seni (tepatnya musik, dan sedang dalam proses persiapan tampil di sebuah showcase), dan Garrett Graham, si pemuda kapten tim hoki es. Hannah adalah tipikal gadis protagonis kebanyakan:
unpopular
, cenderung miskin, bersuara emas, pintar secara akademis, dan (pada akhirnya) bertransformasi menjadi gadis cantik. Sedangkan Garrett juga tipikal atlet pujaan kampus:
popular
, tampan, kaya, playboy, dan kapten. Untung saja Elle tidak menstereotipkan Garrett sebagai cowok bodoh. Sebetulnya dia juga pintar, hanya saja sedang tidak beruntung di salah satu mata pelajaran.
Di luar keduanya ada tokoh sentral Justin Kohl, teman serumah sekaligus setim Garrett: Logan, Tucker, dan Birdie, teman sekamar Hannah: Allie, Cass Donovan (partner duet Hannah), dan beberapa tokoh pendamping lainnya. Untuk urusan karakter ini, tak ada komplain. Semuanya memiliki peran yang pas.
konflik
:
Awalnya ini hanya tentang cinta segi tiga. Kenapa judulnya
The Deal
? Karena memang ada
deal-deal
-an antara Hannah dan Garrett di sini.
Deal
tentang apa? Baca sendiri, ya.
Spoiler
banget kalau saya kasih tahu. Nah, karena
deal
itulah subkonflik tentang isu perkosaan dan KDRT diselipkan. Yang jelas, meskipun tetap menitikberatkan pada unsur
romance
-nya, novel ini juga tak kehilangan bobot dengan menyajikan subkonflik yang oke. Inilah yang mesti ditiru penulis lokal, tambahkanlah subkonflik pada ceritamu biar makin kaya dan berbobot.
Namun, sama kayak waktu baca
Tangled by Emma Chase
, ternyata saya enggak se-
open minded
yang saya duga. Saya masih selalu risih bila menemui adegan
main kuda-kudaan
di ranjang. Apalagi di novel ini ada kurang lebih tiga
chapter
yang mengilustrasikannya. Hohmagat! Saya benar-benar terganggu.
Yeah
, mestinya saya kan sudah bisa mengantisipasi ya, ini kan novel NA ber-
setting
luar negeri pula, ya harus terima kalau budayanya beda sama di Indonesia. Tapi, nyatanya, ya... begitulah, saya
enggak
belum bisa. Edan memang saya. Ya sudahlah, kalau kamu memang sudah bersiap membaca yang ada beginiannya, novel ini sayang banget kalau dilewatkan.
meet cute:
Hannah sedang melirik-penuh-pemujaan ke gebetannya ketika Garrett memergokinya, di kelas Prof. Tolbert, di mana Garrett gagal memenuhi standar nilainya. Setelah tahu Hannah mendapat nilai A bulat untuk ujian kelas itu, dengan penuh percaya diri Garrett meminta-paksa Hannah untuk menjadi tutornya.
simpulan:
Cukup oke untuk bacaan awal tahun, meskipun banyak bagian yang saya
skip
karena alasan kuda-kudaan itu.
Overall
, bukunya bagus, hanya saja untuk lanjut ke buku berikutnya saya masih mikir-mikir dulu. Lebih baik saya coba judul lain dulu, deh.
Selamat membaca, tweemans.
End line:
I don't look back these days. I only look forward.
--hlm. 404, Epilogue: Garrett.