Hari Senin adalah saatnya mewartakan kabar-kabar lain dari dunia literasi, baik dari dalam maupun luar negeri, biar bikin kita enggak lagi bilang, "I hate Monday". Warta perbukuan ini saya rangkum dari pelbagai sumber.
1. NETFLIX akhirnya merilis teaser trailer resmi film TO ALL THE BOYS I'VE LOVED BEFORE
Film yang diadaptasi dari novel
young adult
berjudul sama karya Jenny Han itu bakal tayang di jaringan Netflix per tanggal 17 Agustus 2018 mendatang. Dari awal kabar adaptasi novel ini diumumkan, saya sudah tak sabar kepingin banget nonton visualisasi karakter Lara Jean dan Peter Kavinsky di layar lebar. Cuma karena saya bukan pelanggan Netflix, saya jadi agak khawatir nggak bisa nonton di bioskop. Semoga saja, film ini tetap bisa tayang di bioskop, ya.
2. (Edited) Official Trailer dan Teaser THE HATE U GIVE tayang di VidCon
Official trailer
Teaser
Buat yang menghadiri VidCon di Amerika Serikat sudah pasti tahu lebih dulu tentang kabar diputarnya teaser resmi dari film adaptasi dari novel berjudul sama karya Angie Thomas ini. Namun, buat yang nggak tinggal di Amerika Serikat dan nggak dateng ke VidCon, kabar seputar teaser dari film ini didapat dari akun Twitter sang penulis. Saya juga nggak sabar pengin nonton salah satu film adaptasi paling ditunggu tahun ini mengingat sampai sekarang bukunya sendiri masih terus dan terus memuncaki daftar New York Times bestseller. Kalau nggak salah sudah masuk minggu ke-70-an. WOW,
just
WOW. Saya sendiri belum baca sih bukunya, mau disegerakan sebelum filmnya rilis.
3. Official Trailer film ketiga HOW TO TRAIN YOUR DRAGON
Saya enggak menyangka bakal ada film ketiganya. Cuma kalau menilik dari kesuksesan secara komersial dari dua film sebelumnya ya nggak bikin kaget-kaget banget sih kalau filmnya masih terus diproduksi. Oiya, aslinya film ini diadaptasi dari seri berjudul sama karya Cressida Cowell. Saya cuma pernah baca buku satunya. Pernah pula koleksi bukunya, tapi sudah enggak lagi.
4. Gerakan KID LIT SAYS NO KIDS IN CAGES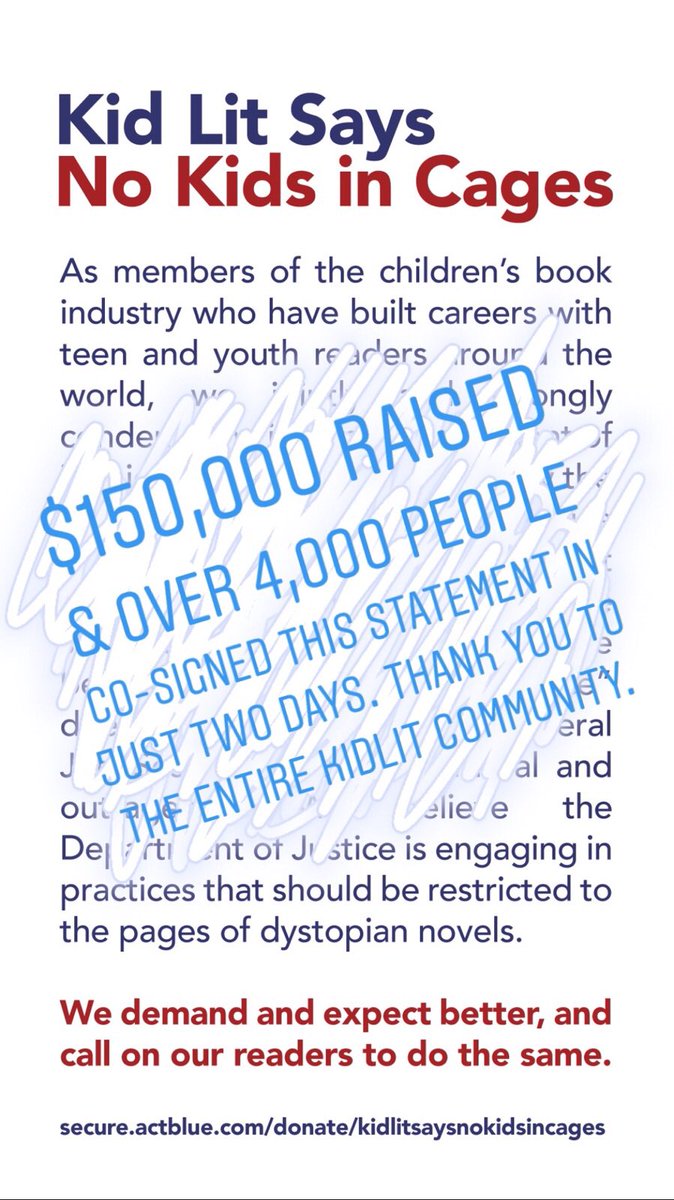 Lagi-lagi, Amerika Serikat di bawah kepemimpinan Donald Trump mengambil kebijakan yang bikin berang warganya sendiri. Baru-baru ini terjadi aksi pemisahan anak-anak dari orangtua imigran yang menyeberang secara ilegal dari Mexico ke US. Dari beberapa berita yang saya baca, Trump menggunakan law enforcement begini biar pemerintahan Mexico mau membayari pembangunan tembok di perbatasan kedua negara. Aksi ini mengundang hujatan dari warganet tak terkecuali para pengarang di sana. Dalam waktu singkat sebuah gerakan yang dimotori Melissa de La Cruz dan beberapa pengarang, sebuah petisi dan sumbangan untuk korban aksi tersebut digalang secara daring. Menakjubkan.
5. Indeks berita pilihan SENI DAN BUDAYA kategori buku dari cnnindonesia.com
Buku Bahan Inspirasi Lagu BTS Magic Shop Laris di Korea
Petisi Tolak Iqbaal Perankan Minke di Bumi Manusia
Netizen Ribut Soal Iqbaal "Lebih Terkenal" Dibanding Pram
Priyanka Chopa Akan Terbitkan Memoar
Berita-berita buku lainnya silakan klik tautan ini:
Indeks Berita Seni dan Budaya.