"Waiting On" Wednesday is a weekly event, hosted by Breaking the Spine, that spotlights upcoming releases that we're eagerly anticipating.
Sejak terkena demam Restart tahun 2013 silam, saya ketagihan pada karya-karya tulis Nina Ardianti, baik yang ditulis sebelum maupun sesudah Restart dirilis. Bahkan, saya juga ikut menjadi groupies yang selalu menyimak penggalan kisah tokoh-tokoh Nina Arianti dalam serial pendek yang diunggah di web resminya, www.ninaardianti.com, berjudul Meet Cute dan Stuck. Sedangkan, nama Mahir Pradana juga sangat familiar di kuping saya mengingat banyak rekan di komunitas Goodreads Indonesia yang kepincut pada kepiawaian menulisnya. Here After dan Rhapsody adalah dua novel Mahir yang diterbitkan Gagas Media dan berhasil mencuri perhatian penikmat fiksi tanah air. Saya? Jujur saja, saya baru sebatas pengoleksi dua novel itu... enggg, belum dibaca juga sampai sekarang. #pletakkk
Kali ini dua pengarang yang sering terlihat bersama baik di dunia maya maupun di dunia nyata itu *tebar-gosip* berduet menulis sebuah novel bertajuk Sunset Holiday yang agak-agaknya beraroma traveling tapi dibumbui rempah-rempah romantisme yang begitu terasa dari kover yang sudah dirilis secara resmi oleh Gagas Media. Merujuk pada web resminya, pihak penerbit tidak memberikan tanggal pasti kapan novel ini akan dirilis. Namun, dari pantauan linimasa Nina Ardianti ataupun Mahir Pradana di ranah Twitter minggu lalu setelah mengisi acara talkshow sekaligus berbagi ilmu menulis duet, dummy novel ini sudah dipamerkan keduanya, dan diharapkan tak lama lagi novel ini bisa beredar di toko-toko buku terdekat.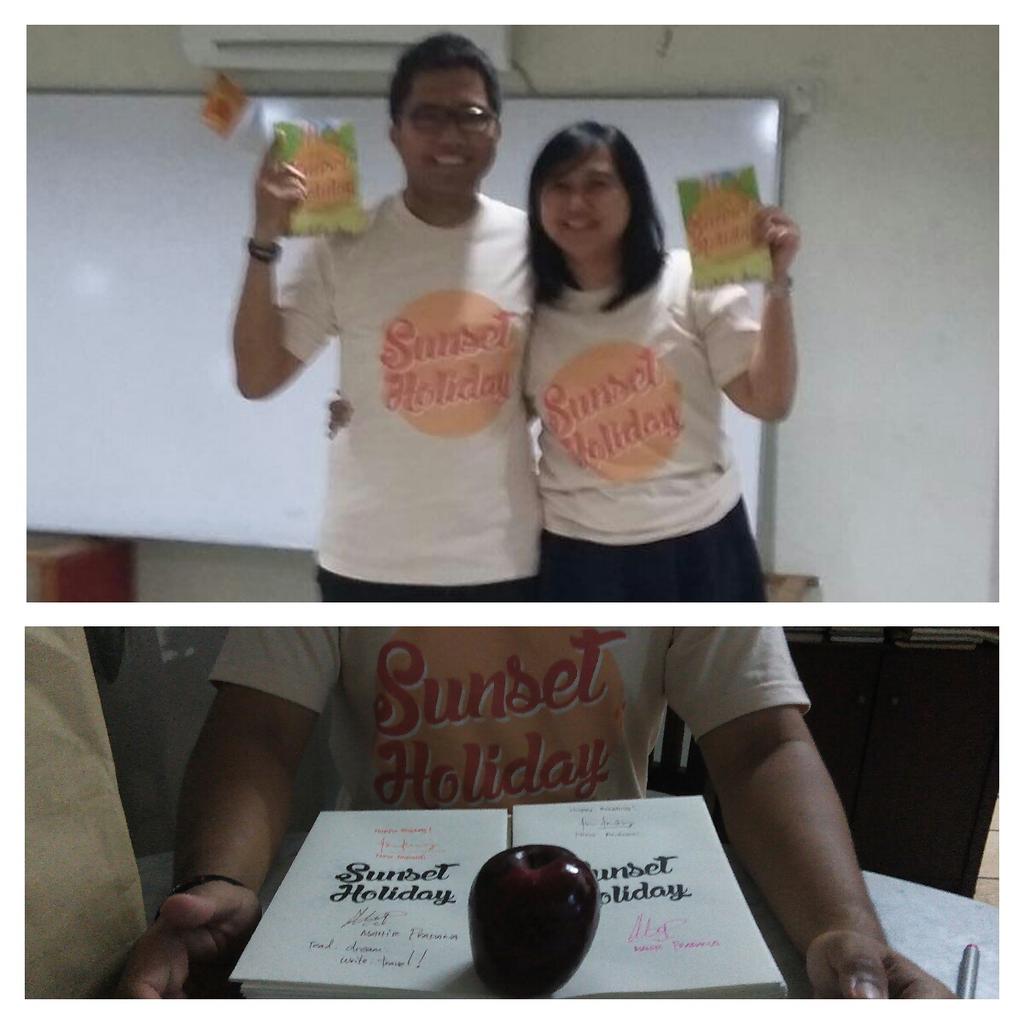 Ini dia sinopsis dan kovernya (bahkan di www.goodreads.com belum didata, ya?):
"We are all strangers until we meet."

Jatuh cinta dan bertemu denganmu tidak ada dalam rencana perjalananku. Namun, di perjalanan sejauh ini, kamulah hal terbaik yang terjadi kepadaku.


Aku menebak-nebak di mana akhir senyum manismu yang menghangatkan. Hal paling menyakitkan dari jatuh cinta adalah kehilangan setelah memilikinya. Karena itulah, aku tidak berani berharap banyak. Kita hanyalah dua orang asing di tempat asing. Akan lebih banyak risikonya jika aku memutuskan untuk jatuh cinta.

Jika aku tidak akan menjadi bagian dalam sisa perjalanan hidupmu, bisakah kamu mengingatku sebagai bagian terbaiknya? Aku tidak berani menanyakannya karena diam-diam kutahu tujuan terakhir kita ternyata tak sama.

Kita kemudian bukan lagi dua orang asing di negeri asing. Namun, mengapa sakit ketika mengingat ternyata rasa ini terasa lebih asing daripada sebelumnya?

Audy dan Ibi bertemu di Paris, kota yang menyimpan banyak pesona cinta. Karena impulsif, Ibi mengikuti Audy melakukan perjalanan keliling Eropa. Entah di Praha, Roma, atau Venezia, mungkin di sanalah cinta menyapa. Namun, apakah kebersamaan singkat itu berarti banyak jika sejak awal tujuan akhir mereka ternyata tak sama?
Penulis:
Nina Ardianti & Mahir Pradana
Ukuran:
13 x 19 cm
Tebal:
480 hlm
Penerbit:
GagasMedia
ISBN:
979-780-818-1
Harga:
Rp69.500,-
Jika ingin mengintip sedikit tentang
Sunset Holiday
ini, silakan berkunjung ke web resminya Nina Ardianti di
www.ninaardianti.com
, ya. Memang, sih, di sana diberikan keterangan bahwa cuplikannya itu masih yang versi belum disunting. Tapi, lumayanlah, ya, bisa sedikit memberi gambaran awal.
Jadi, Rabu ini kamu nungguin terbitnya buku apa?