First line:
IT'S A WEIRDLY SUBTLE CONVERSATION. I almost don't notice I'm being blackmailed.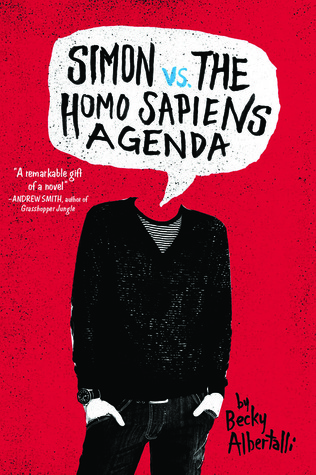 Sixteen-year-old and not-so-openly gay Simon Spier prefers to save his drama for the school musical. But when an email falls into the wrong hands, his secret is at risk of being thrust into the spotlight. Now Simon is actually being blackmailed: if he doesn't play wingman for class clown Martin, his sexual identity will become everyone's business. Worse, the privacy of Blue, the pen name of the boy he's been emailing, will be compromised.

With some messy dynamics emerging in his once tight-knit group of friends, and his email correspondence with Blue growing more flirtatious every day, Simon's junior year has suddenly gotten all kinds of complicated. Now, change-averse Simon has to find a way to step out of his comfort zone before he's pushed out—without alienating his friends, compromising himself, or fumbling a shot at happiness with the most confusing, adorable guy he's never met.
Judul: Simon vs the Homo Sapiens Agenda
Pengarang: Becky Arbetalli
Penyunting: Donna Bray
Penerbit: HarperCollins
Format: eBook - 303 hlm - bahasa Inggris
Rilis: 7 April 2015
ISBN:
9780062348678
Rating: 3 out of 5 star
ide cerita dan eksekusinya:
Simon vs the Homo Sapiens Agenda ini tipikal novel LGBTQ (Lesbian, Gay, Bisexual, Transgender, and Queer) kebanyakan. Premisnya masih seputar konflik lahir-batin seseorang untuk mengakui bahwa orientasi seksualnya berbeda. Atau, dalam dunia LGBTQ disebut dengan coming out moment. Novel ini--seperti tertera di judulnya, berkisah tentang Simon Spier yang maju-mundur (enggak pakai cantik-cantik, ya), untuk mengaku sebagai gay.
Sejatinya tak ada yang istimewa dari novel ini, dibandingkan novel bertema sejenis. Well, saya tetap mengakui bahwa Becky mampu mengalirkan kisah hidup Simon yang berliku dengan kemasan yang menarik. Dijamin, jika sudah membaca, kamu pasti dengan mudah ikut terhanyut. Tapi, sekali lagi, buat saya novel ini tidak terlalu istimewa. Bahkan, jika dibandingkan dengan serial Rainbow Boys-nya Alex Sanchez, saya malah lebih suka Rainbow Boys. Jujur saja, saya membaca novel ini karena hype-nya yang kenceng banget. Bahkan beberapa pemilihan novel terbaik/terfavorit 2015, novel ini masuk dalam banyak nominasi. Namun demikian, saya tetap merasai ikut menebak-nebak siapa tokoh "Blue" yang jadi fantasy-nya Simon sepanjang cerita. Berulang kali saya salah tebak. Huh!
meet cute:
Simon Spier bertemu dengan sosok Blue dalam suasana romantis, untuk kali pertama, adalah di salah satu wahana yang ada di sebuah karnaval malam di kotanya.
There's something in his voice. I turn to him, slowly, and his eyes are wide and brown and totally open.
"It's you," I say.
"I know I'm late," he says.
Then there's a grinding noise and a jolt and a swell of music. Someone shrieks and then laughs, and the ride spins to life.
...dan, saya langsung... oh, dia toh, si Blue itu.
plot, setting, dan karakter:
Novel ini beralur maju, dan sedikit sekali menghadirkan kenangan masa lalu. Hanya obrolan kecil dan ingatan singkat Simon pada kejadian-kejadian khusus yang dianggap memengaruhi kehidupannya sekarang. Terutama ketika dia sedang mengingat persahabatannya dengan beberapa karibnya.
Novel ini ber-setting waktu modern namun sebelum peristiwa #LoveWins yang dideklarasikan Amerika di tahun 2015 lalu. Sedangkan lokasinya, novel ini ber-setting (mostly) di Creekwood High School, SMA tempat Simon dan sebagian besar karakter dalam novel ini bersekolah.
Deretan karakter yang paling banyak berperan dalam novel ini: Simon Spier (karena ditulis dengan menggunakan PoV orang pertama, Simon adalah "aku"), Nick dan Leah (sahabat lelaki dan perempuan Simon yang dikenalnya sejak kecil), Abby (sahabat perempuan yang baru dikenal Simon di SMA), Alice dan Nora (kakak dan adik perempuan Simon), Martin Addison (teman SMA yang memergoki e-mail Simon pada Blue), Cal Price (cowok tampan yang ditaksir Simon), dan beberapa tokoh lainnya.
konflik:
Konflik utama novel ini adalah tentang Simon dan orientasi seksualnya. Pada banyak bagiannya, novel ini ditulis secara bergantian: satu bab berisi narasi Simon dan bab selanjutnya berisi percakapan melalui e-mail antara Simon dan Blue. Di awal, kita disuguhi dilema Simon menghadapi Martin Addison yang mengancam menyebarkan rahasia Simon jika dia tak membantu Martin melaksanakan sesuatu.
Well, Becky berhasil membuat saya mencebik sebal dan gemas pada sikap Simon. Mengapa dia tak melawan saja ketika Martin mengancamnya, sih.
Dari situ kita akan dibawa pada banyak narasi dan percakapan e-mail untuk menebak-nebak siapa tokoh Blue. Kisah itu bercampur dengan subplot tentang persahabatan yang turun-naik antara Simon-Leah-Nick-dan-Abby, persiapan hingga pelaksanaan pentas teater, juga keputusan akhir Simon untuk mengakui rahasianya pada orangtua, teman, dan semua orang. Dari sinilah, saya berpendapat, konflik utama novel ini biasa saja. Tak banyak letupan yang bisa mengejutkan.
ending:
catatan:
Judul buku yang ikut disebut dalam novel ini: Harry Potter (Simon adalah pencinta Harry Potter sejati), Fahrenheit 451 (Ray Bradburry) dan beberapa judul lain yang lupa saya tandai. Selain buku, musik dan film juga banyak disebut di novel ini.
Kesimpulan:
Dari segi gaya menulis dan plot yang disajikan, novel ini bisa kamu pilih jika sedang kepingin membaca novel remaja bertema LGBTQ. Plot dan subplot terjalin rapi, meskipun tak banyak kejutan berarti. Sebagai sebuah kisah cinta--errr, sejenis, novel ini tampil manis, cute, dan romantis. Selamat membaca, tweemans.
end line:
But maybe this is a big deal. Maybe it's holy freaking huge awesome deal. Maybe I want it to be.