#7_2017
First line:
"I Like to watch Peter when he doesn't know I'm looking."
---
hlm.1, Chapter 1
Lara Jean's letter-writing days aren't over in this surprise follow-up to the New York Times bestselling To All the Boys I've Loved Before and P.S. I Still Love You.
Lara Jean is having the best senior year a girl could ever hope for. She is head over heels in love with her boyfriend, Peter; her dad's finally getting remarried to their next door neighbor, Ms. Rothschild; and Margot's coming home for the summer just in time for the wedding.
But change is looming on the horizon. And while Lara Jean is having fun and keeping busy helping plan her father's wedding, she can't ignore the big life decisions she has to make. Most pressingly, where she wants to go to college and what that means for her relationship with Peter. She watched her sister Margot go through these growing pains. Now Lara Jean's the one who'll be graduating high school and leaving for college and leaving her family—and possibly the boy she loves—behind.
When your heart and your head are saying two different things, which one should you listen to?
Judul:
Always and Forever, Lara Jean (To All The Boys I've Loved Before #3)
Pengarang: Jenny Han
Penerbit: Scholastic Ltd (UK Version)
Tebal: 336 hlm
Rilis: 4 Mei 2017
Harga: Rp104.000 (Pre-order di Book Depository)
ISBN: 978-1-407177-66-3
My rating: 4 out o

f

5 star
Saya merasa menjadi salah satu pembaca yang beruntung ketika mengingat kali pertama berkenalan dengan duologi-yang-berubah-menjadi-trilogi karya
Jenny Han
ini. Betapa tidak, waktu itu saya berkali-kali mupeng baca
To All The Boys I've Loved Before
--karena kayaknya semua orang di dunia lagi ngomongin buku ini--yang saat itu belum diterjemahkan ke bahasa Indonesia, tiba-tiba saya mendapat tawaran menjadi
proofreader
naskah yang hak terjemahan Indonesia-nya ternyata dibeli Penerbit Spring ini. Tanpa berpikir dua kali, saya langsung mengiakan. Dan, jadilah saya salah seorang fan seri
Lara Jean
ini.
Ketika Jenny Han mengumumkan bahwa akan ada buku ketiga,
Always and Forever Lara Jean
, saya pun ikutan enggak sabar menunggu jadwal rilisnya dan memasukkan novel ini ke daftar
Most Anticipated Books of
2017. Iseng-iseng saya mengecek di
Book Depository
dan merasa harga PO-nya lumayan murah, maka saya pun mengeklik pesan dan membelinya. Novel ini menjadi novel PO pertama saya sejak kali terakhir ikutan PO novel
Twivortiare
-nya Ika Natassa terbitan nulisbuku sekian tahun silam.
Meski antusias menunggu rilisannya, saya tak memasang ekspektasi kelewat tinggi untuk buku ketiga seri
Lara Jean
ini. Saya cuman fan yang enggak rela cerita Lara Jean berakhir begitu saja. Sama enggak relanya ketika tahu
The Chronicles of Audi
-nya Orizuka juga tamat. #eh #enggaknyambung
Gaya dan cara bertutur Jenny Han masih seluwes di dua buku sebelumnya. Meski tak lagi menyembulkan ledakan kejutan yang cukup signifikan, tapi konflik di buku ketiga tetap menarik untuk diikuti. Malah untuk pembaca yang sedari awal sudah menginginkan Lara Jean dipasangkan dengan *
uhuk
*sensor*
uhuk
*, buku ketiga ini bisa menjadi pembuktian bahwa kisah asmara mereka memang sepatutnya dilanjutkan.
And, I love how Jenny Han made them up for each other
. Pelan, beriak, tapi
believable
.
Saya pun cukup menyukai subplot-subplot yang disusun Jenny Han sebagai bumbu kisah cinta Lara Jean di buku ketiga ini. Mulai dari dibuat berdebar-debar menanti kabar kampus mana yang akan menerima Lara Jean sebagai mahasiswanya, geregetan dengan sikap tarik ulur Lara Jean dan Peter Kavinsky, cekikikan bareng Kitty, merasa tersisihkan seperti Margot, tersipu-sipu ketemu John Ambrose McClaren, repot bantu-bantu persiapan pernikahan Daddy, kejutan dari Stormy, hingga keputusan akhir Lara Jean soal pilihan cowoknya. Ataukah dia mestinya mengikuti saran mendiang ibunya, "
Don't be the girl who goes to college with a boyfriend
"?
Memang sih, ada beberapa bagian yang saya lompati, terutama soal deskripsi kampus yang dikunjungi Lara Jean untuk survei lalu eksperimen-eksperimen Lara Jean soal pembuatan kue. Bukan enggak bagus, cuman sangking kepinginnya segera tahu
ending
-nya saja, sih. Plus, alur jadi seolah melambat dan agak
boring
. Mungkin nanti kalau kangen kisah Lara Jean, saya bakal
re-read
pelan-pelan tanpa melompati bagian mana pun. Janji!
Oh, oh, dan saya suka banget karena banyak film disebut di sini, termasuk salah satu film favorit saya:
Sleepless in Seattle
! OMAGAT, Jenny Han
also writes something about Teddy bear near
Empire State Building.
Jujur, saya menyukai kover versi US untuk dikoleksi. Namun, ternyata saya enggak sadar ketika pesan buku ketiga (dan buku pertama) di Book Depository, yang saya pesan adalah kover versi UK. Celakanya, saya telanjur beli buku kedua di
event
Gramedia Import Book Sale 2017 yang berkover versi US. Huhuhu, punya satu set tapi malah enggak seragam kovernya. Beberapa kali saya sempat tergoda kepingin pesan lagi buku keduanya dengan kover versi UK di Book Depository. Biar klop satu set gitu. Hikz.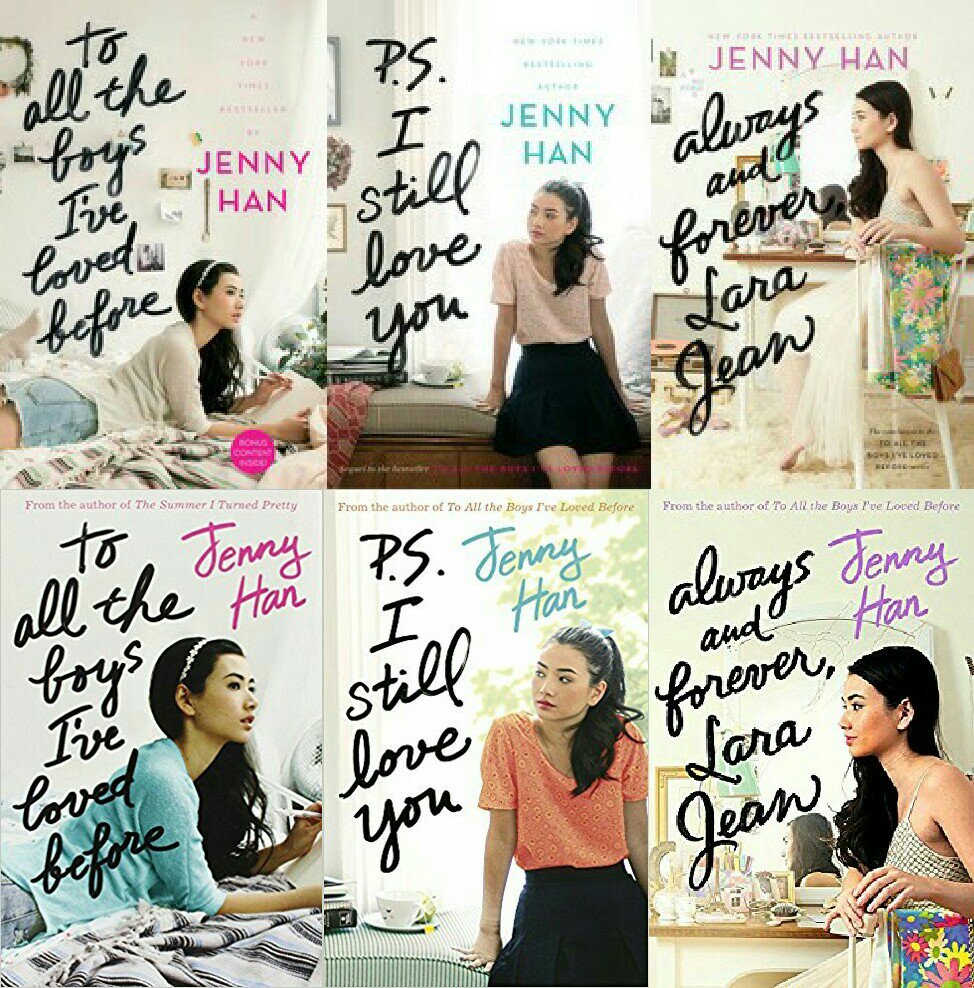 Buat saya,
it's not perfect but awesome conclusion for
Lara Jean. Kalau saya diberi kesempatan untuk sumbang saran penulisan buku ketiga ini, mungkin saya pun akan menuliskan
ending
yang sama.
End line:
"I suppose I'll say it all started with a love letter."
---
hlm. 325, Chapter 41