So SWEET!
Directed by Susan Johnson
Produced by Brian Robbins, James Lassiter, Will Smith, Matthew Kaplan
Cinematography by Michael Fimognari
Edited by Phillip J. Bartell, Joe Klotz
Production companies: Overbrook Entertainment and Awesomeness Films
Release date: August 17, 2018 (United States)
17 Agustus 2018 akhirnya datang juga. Selain menunggu perayaan Ulang Tahun ke-73 Republik Indonesia, tanggal ini saya tunggu kedatangannya karena... jeng-jeng-jeng... adaptasi novel young adult To All The Boys I've Loved Before karya Jenny Han juga dirilis di... NETFLIX. Ahhh, love-love-love.
Sejak kali pertama baca novel ini, saya sudah menahbiskan novel ini jadi salah satu novel remaja favorit. Saya bahkan lumayan terobsesi sama Jenny Han, hahaha.
I try to buy and read anything by her
. Cuma ya begitu, kadang harapan nggak sebanding kenyataan. Wacana tinggal wacana. Beli bukunya sih sudah, bacanya yang entah kapan bisa direalisasikan, hahaha.
But, I'm still glad that I read all books on this trilogy
.
Review
bisa dibaca untuk
P.S. I Love You
dan
Always and Forever, Lara Jean
. Saya malah nggak sempat bikin
review
untuk
To All The Boys I've Loved Before
.
WHATTT
?
Jadi, apa kabar dengan filmnya?
Sejak kabar novel ini bakal diadaptasi ke format film, saya sudah sangat antusias. Nggak sabar nungguin siapa saja cast-nya dan gimana akhirnya filmnya dibuat. But then, pas tahu filmnya enggak tayang di bioskop dan hanya tayang di jaringan Netflix, saya sedih. Lah, gimana cara nontonnya kalau begitu? Saya saja nggak langganan. Terus, gimana jadinya saya nonton dan bisa bikin review, you ask? Anggap saja, akhirnya saya bisa nonton streaming di Netflix, hahaha.
Back to the review
,
first
, filmnya sangat setia sama novelnya. Semua adegan penting diambil, dan sebagai penggemar novelnya tenu saja saya hepi banget. Saya jadi nggak perlu banding-bandingin film sama bukunya, wkwkwk. Tapi, apakah ada perbedaan di sana-sini antara keduanya? Tonton sendiri saja kalau penasaran, ya.
Second, the cast. Love them all. Meskipun terkadang agak off gimana gitu, saya suka ketiga gadis Song yang diperankan Lana Condor (Lara Jean), Janel Parrish (Margo), dan Anna Cathcart (Kitty). Pun dengan jajaran cast yang lain, John Corbert (ayah-dr. Covey), Madaleine Arthur (Christine), Noah Centineo (Peter Kavinsky), Israel Broussard (Josh), dan yang lainnya. But, in this film, Peter said too much, "Whoo... whoa...", and it's bit annoying.
Third, as a teenage rom-com, filmnya cukup menghibur dan believable. Yah, karena saya sudah tahu jalinan ceritanya, saya jadi nggak perlu nebak-nebak nanti bakal gimana sama para tokohnya. Lah, nggak surprising dong, you ask? I don't mind, though. Saya sudah cukup puas dengan bagaimana eksekusi oleh Jenny Han. Malah khawatir kalau banyak diubah sama penulis skenarionya. Filmnya memang nggak colorful atau cheerful dengan banyak adegan pesta lucu-lucuan yang heboh (ada sih, tapi sedikit) dan cenderung banyak ngobrolnya.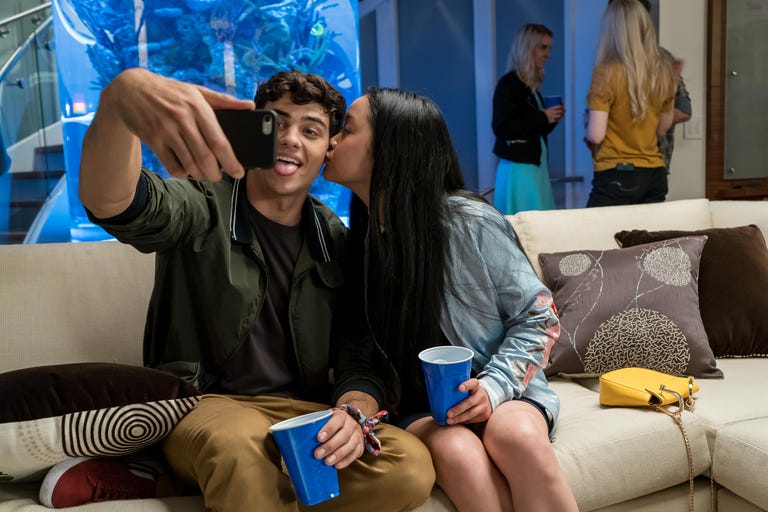 Fourth, ada satu komplain sih, soal scoring-nya. Nggak ngerti gimana jelasinnya, tapi menurut saya beberapa bagian terlalu hening tanpa musik pengiring sementara di bagian lain terlalu awkward sama musik pengiring yang nggak pas. Oh ya, saya suka film ini diceritakan melalui Lara Jean sebagai narator. I love hearing Lana Condor's voice.
Oh, sudah tahu jalan ceritanya, kan? Belum? SERIUS!!?? Dan... buat kalian yang nggak suka
spoiler
, jangan dibaca bagian ini. Oke, buat yang belum tahu dan nggak masalah berasa
spoiler
, begini ceritanya:
Overall, saya suka dan menikmati banget menonton film ini. Mungkin untuk beberapa waktu saya akan tonton ulang lagi dan lagi dan lagi. Juga, kalau ada kesempatan saya pengin baca ulang novelnya. Hell, yeah. I am #TeamJennyHan. Oh, dan semoga dua buku berikutnya juga diadaptasi kembali. Aamiin. Buat yang kangen nonton rom-com remaja, coba tonton film ini deh. You'll love it. 4 STAR!